This is recipe post is part of my ongoing series with Beachgreens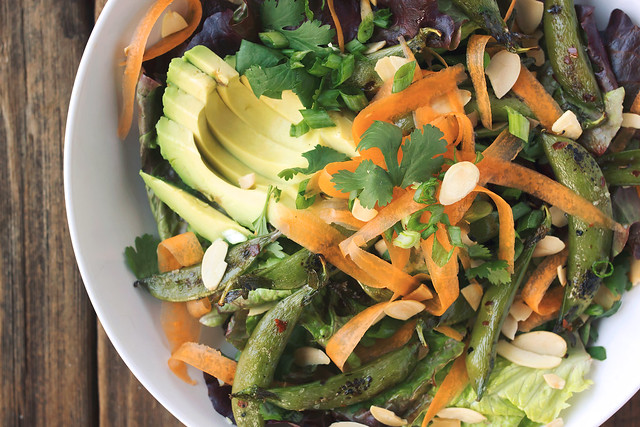 Sugar Snap Peas are one of my most favorite spring snacks, as of late. Throughout the day, I open the fridge, there they are, edible just as they come. I really enjoy just eating them raw, sometimes I eat them as is, with a sprinkle of course sea salt, other times, I dip them in guacamole or whatever homemade dip I have on hand – either way I just love their sweet, crisp, fresh and bright flavor. When I am not snacking away on them raw, I also really love eating them in stir fries and now grilled, too.
The charred pods keep a nice fresh flavor, but it they are also slightly tender and the grilling really brings out their inherent sweetness. I love the grilled snap peas over a salad like this one, but they are also great dipped in a homemade aioli or hummus.
This healthy, vibrant and crunchy Spring salad has a bit of an Asian-flare to it with the almond butter and ginger dressing that also has soy sauce, lime juice and sesame oil. If you want to skip the salad part however, grill the snap peas and instead serve the dressing as a dipping sauce. Voila, instant appetizer or snack.
Stay up to date with all the delicious dishes I am making with my weekly Beachgreens boxes on Instagram, by following the hashtag #tastyyummiesxbeachgreens
{ 1 comment }