I have been meaning to try making my own dairy-free yogurt for some time now and I just kept putting it off. From what I have heard and read from many people, it can be frustrating at times and can require some trial and error. I have also learned that there really are lots of different ways you can do it. I decided to just dive right in and do some trial and error of my own for this How-to Make Coconut Milk Yogurt tutorial, so I can share my thoughts and results with you guys.
The differences in the various results aren't quite distinguishable enough in photos, so I decided against a side-by side comparison as I did with the whipped coconut cream, instead I thought giving you the details on all the many options and sharing my thoughts and results would be just as effective. Of course, there are many more options than I even share here, but these are the ones that I tested. That said, I really do recommend trying things out for yourself, yogurt is funny that way, what works for one person, may not work for another, whether it be the type of milk you choose, the starter, the temperatures you are culturing at, etc. So, play around, find what works for you and go with it. I hope I gave you enough information and options here to help start you down the fun road of educated guesses when yogurt making.
I do have to say that I am not vegan, nor am I allergic or highly sensitive to milk. I just choose to limit my dairy intake. When selecting a yogurt starter or probiotic powder, please always check with the manufacturer on the origin of the culture, most are made on dairy and therefore will contain trace amounts of dairy that will not work if you have a severe dairy allergy/intolerance or if you are vegan. Cultures for Health makes a certified vegan/dairy-free yogurt starter and I really love their products and customer service. Likewise, many probiotic powders and capsules can contain dairy, so be careful there too, though it is quite easy to find those that are dairy-free/vegan. If you are ever unsure it is always best to check directly with the manufacturer.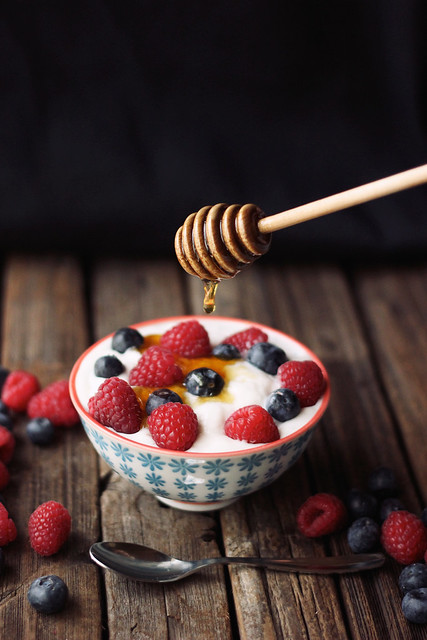 OK let's get into it… How-to Make Coconut Milk Yogurt
Choose a Coconut Milk:
canned organic full fat coconut milk without any additives (thickeners like guar gum are OK) Thai Kitchen and Native Forest both produced great results as did Natural Value
homemade coconut milk (see my recipe at the bottom of this post)
My thoughts: I found that the canned milk produced the creamiest and richest results (I am sure because of the guar gum that is added).  But, I really liked the taste of the homemade coconut milk and I loved knowing that it was super fresh and I knew exactly what was in it. Ultimately I would say the canned organic coconut milk would be my pick, but I am going to keep experimenting with the homemade milk, too. Play around and find what you like best. Do not use boxed coconut milk "drinks" it will not work.
Choose a Sweetener:
unlike animal milk, coconut milk doesn't have much natural sugar. Adding sweetener promotes fermentation, as the bacteria needs something to feed on to allow the culturing process to take place. 1 tablespoon per 1 quart (4 cups) of milk should do.
raw sugar
honey
maple syrup
My thoughts: I used both raw sugar and honey, both worked just fine. You can certainly try without any sweetener if you'd like, many recipes don't call for it, I did not test it without.
Choose a Starter:
if vegan or dairy intolerant be sure to choose a certified dairy-free option
probiotic powder (must contain one of these strains – Lactobacillus bulgaricus, Streprococcus thermophilus, Bifidobacterium lactis or Lactobacillus acidophilus)
My thoughts: I found using 1/2 – 1 teaspoon of probiotic powder (that is the filling from between 4 and 8 of my probiotic capsules*) per 4 cups of coconut milk or two packets of this yogurt starter per 4 cups of coconut milk produced the tangiest and best results (this dairy-free/vegan yogurt starter would work the same). That said, I have seen recipes where people used as few as 1 capsule of probiotic powder and most call for just 1 packet of yogurt starter per 4 cups of milk, much of this depends on the potency/strength of the probiotics or yogurt starter. You kinda have to play around with ratios to find your personal desired tanginess. I have also read that you can simply use a small amount of dairy yogurt or even kefir as a starter, but I haven't tested either of these methods.
NOTE: I have read that unlike animal milk yogurt,  you cannot reuse non-dairy milk yogurt as a starter for the next batch. However a few folks have commented to say that it does work for them, so it is worth exploring.
*I currently take CVS brand probiotics, nothing fancy, but they are certified gluten-free, soy-free and vegan and not too pricey.
Choose a thickener (optional):
dairy-free coconut milk yogurt can be quite thin, which is totally OK, but, if you are like me and you enjoy a thicker more traditional yogurt, you may want to add a thickener. Which I prefer to do.
starch (like tapioca or arrowroot) – I didn't test this method
My thoughts: I found using 2 teaspoons of gelatin per 4 cups of canned coconut milk produced the thickest and creamiest results. Whether using canned coconut milk or not, if you add too much gelatin you will end up with more of a cultured panna cotta than a yogurt, but it's still quite tasty. As far as vegan options go, I could only get my hands on the agar agar flakes, not the powder and while 2 teaspoons really thickened 4 cups of milk, I found it to be a bit less smooth and creamy than the gelatin, but it did thicken quite well. It was my first time using it, so it is possible I may not have dissolved it thoroughly or that the powder would be better.
How-to Make Coconut Milk Yogurt

makes 1 quart yogurt
4 cups coconut milk
1 tablespoon sweetener
yogurt starter or probiotic powder (this amount can vary)
optional thickener
1) Heat the coconut milk and sweetener to barely a boil and remove from heat. In a glass bowl, allow the milk to cool to 115º F. While the coconut milk is cooling, if using, dissolve the thickener in another bowl using the necessary method. (A small amount of cool water for the gelatin, hot water for the agar agar and so on.) Once fully dissolved, add the thickener to the warm coconut milk. Stir well to combine.
2) Once the coconut milk reaches 115ºF add the yogurt starter (or probiotic powder), stir to combine. Pour the mixture into a very clean glass jar with a tight fitting lid (either washed with super hot, soapy water or run through the hottest cycle in your dishwasher). Cover and place in either your yogurt maker or an oven that is totally off with just the light on, the door shut and a towel wrapped around the jars of yogurt for extra insulation. I have a proofing setting on my oven that allows me to set it to 100ºF and that worked perfect. You can also keep the jars of yogurt in a cooler filled with hot water, on a low temperature heating pad, etc – basically you are looking to keep it at approximately 105ºF – 115ºF for the entire time it is culturing.
3) Allow the coconut milk yogurt to culture for at least 8 hours but likely much longer, I personally find I like the flavor best when it has cultured for 16-24 hours. I like my yogurt tangy. This time may require some trial and error on your part to find what works best for you and your setup.
4) It will still be relatively thin at this point. Once ready, cover tightly and place in the fridge for at least 6 hours. This halts the fermentation, it will thicken as it cools, whether or not you added a thickener, obviously more so, however, if you added a thickener of some kind.
How to Make Your Own Coconut Milk
1) Pour the 4 cups of boiling water over the shredded coconut and allow it to soak for 15-30 minutes. Then add the mixture to your blender and blend until smooth. Make sure the mixture it isn't hot when you blend it or allow the lid to vent or you will have a hot coconut explosion all over your kitchen. You may want to blend in batches.
2) Strain the coconut meat from the milk using a nut milk bag, strainer or cheesecloth. The nut milk bag produces the best results. If using a strainer or cheesecloth, you may need to do a few separate passes. Discard the pulp and you are left with yummy coconut milk.
Disclosure: This post contains affiliate links. If you make a purchase using these links – your cost remains the same, but I earn a small percentage to help support this blog. Thank you!
I am in no way affiliated with Cultures for Health. I just like and use their products.
SaveSave