I have been all about the simple healthy one-pot meals, as of late. Life has been hectic for us. Lots of work, deadlines, house guests every two to three weeks, commitments, shows and so on. I am certainly not complaining, such is the life of the self employed. But, some days by the time I am done cooking and creating recipes for the blog, editing photos and writing back all the emails – by dinner I am actually just too exhausted to make any sort of feast. The sad truth is that as a food blogger sometimes my own meals get forgotten, I am so focused on making the recipes that I have planned for the blog to share with all of you. Plus,the idea of tons of prep, lots of steps, loads of dishes – it all seems overwhelming and unwelcomed at the end of a busy day, especially a day that included much of just that.
A good 30-minute, one-pot meal means that, besides a few minutes for cutting up a few ingredients and dirtying a cutting board or knife, dinner is done before you can blink an eye. Just like that, you can sit down and enjoy a nutritious home-cooked meal with your love and the clean up after is next to nothing. Enter this super easy 30-minute Sweet Potato and Kale Coconut Curry.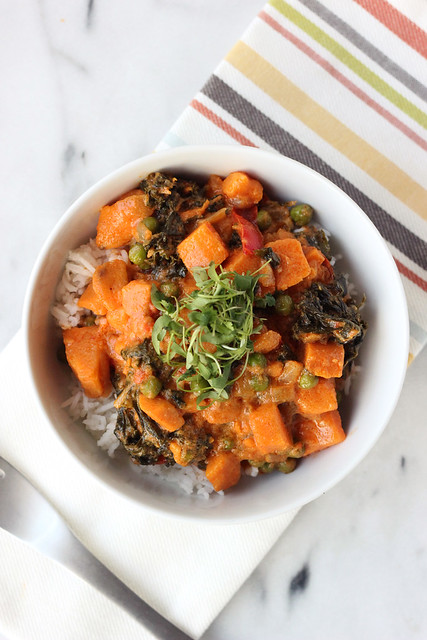 This curry has an incredible flavor from the the fresh ginger and the coconut milk, plus of course, the red curry paste, which has a subtle heat and a wonderful hint of lemongrass. I go heavier on the red curry paste than most, since I love that flavor and I can't get enough. If you want a more subtle taste and tad less heat (though I don't personally find red curry spicy at all) go for just 1 or 2 tablespoons.
This curry is definitely super good on it's own, but you certainly can serve it over rice (we like basmati), quinoa or even cauliflower rice for a totally grain-free pale0-friendly dish, which was also really enjoy. Add some cilantro, red pepper flakes, a squirt of lime juice, green onions, or even coconut flakes, when serving. And of course, besides savoring every bite of this, be sure to also enjoy the lack of dishes after you are done.
[print_this]30-minute Sweet Potato and Kale Coconut Curry
serves 4-6
1 tablespoon coconut oil or olive oil
1 medium yellow onion, diced
1 red bell pepper, sliced
3 tablespoons red curry paste
3 cloves garlic, minced
1 tablespoon fresh ginger, peeled and minced or grated
1 can organic full fat coconut milk
1 cup low-sodium vegetable broth (or chicken broth)
2 large sweet potatoes, peeled and cut into 1-inch cubes
1 large bunch kale, stems removed and roughly chopped
2 teaspoons coconut aminos, you could also use gluten-free tamari, soy sauce or fish sauce
1 cup peas, fresh or frozen
sea salt and freshly ground black pepper, to taste
For garnish:
Fresh cilantro, thai basil, red chiles, coconut flakes and/or green onions to garnish
Instructions:
Heat a large saucepan or pot to medium heat and add your oil. Add the diced onion, red bell pepper and red curry paste, stir around until the onion is softened about 5 minutes. Add the garlic and ginger give it a stir around, let it cook for 1-2 minutes, then add coconut milk, vegetable broth, sweet potatoes and liquid aminos.
Stir well and bring to a bring to a boil. Reduce heat to simmer, add the kale, cover and cook just until the sweet potatoes are tender, about 10-15 minutes.
Add the peas in the last 5 minutes of cooking. Taste and adjust your seasonings as needed, add sea salt and black pepper or red pepper flakes, if needed. This curry does thicken up as it sits.
Serve over rice, quinoa, cauliflower rice or as is.
Top with fresh cilantro or any other goodies that you prefer. [/print_this]
Do you love curry as much as we do?
Check out some of my other curry recipes:
Butternut Squash & Chickpea Coconut Crock Pot Curry
Roasted Eggplant Curry (Baingan Bharta) 
Disclosure: This post contains affiliate links. If you make a purchase using these links – your cost remains the same, but I earn a small percentage to help support this blog. Thank you, your support is so appreciated.