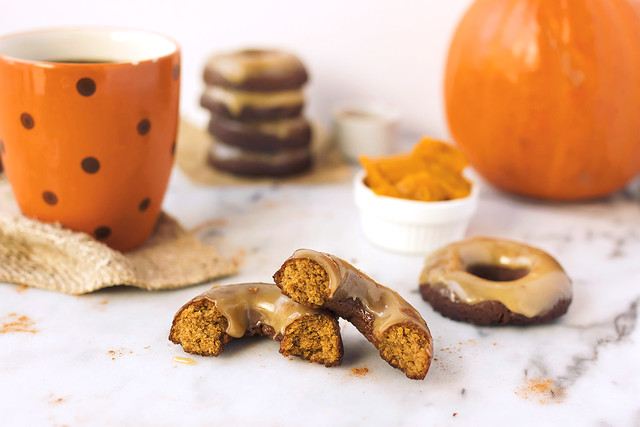 OK guys, so I didn't want to make this the world's longest post title, but check it out: these donuts are not only gluten-free, but they are also totally grain-free and even nut-free! Bonus round – they are also dairy-free and refined sugar-free. Best part is, even in being the most "free-friendly" donut recipe I have made yet, I finally impressed my donut-obsessed hubby with a homemade gluten-free donut!! This has been a many year long odyssey, so I feel like I should get a medal or an award or something.
To be fair, this is the first time I have ever actually fried donuts at home, so I am certain that has a lot to do with Mark's adoration. None the less, these puppies are healthier than the white flour containing crap he has an affinity for, so a win is a win!
Whenever I make my usual baked donuts at home, Mark and I argue over the fact that they just aren't real donuts. He always claims they are basically just a circular muffin when they are baked and not fried in any way. I now kinda have to agree with him there!
These Maple Glazed Pumpkin Spice Coconut Flour Donuts are quite simple to make and if you want to skip the frying to make them even easier, they are just as tasty right out of the oven. I taste-tested one for you. I know, my job is really hard, eating donuts two ways. Oh and the delicious maple glaze on top is somewhere between a glaze and a caramel sauce and it really is a really wonderful compliment to these perfectly spiced fall-inspired donuts. The glaze is so rich, thick, creamy and tasty, you'll want to eat it with just a spoon.
These donuts have an amazing, real-deal chew to them, much like a traditional cake donut. I opted to add a small amount of psyllium husk powder to get this affect. I tested this recipe once prior without the psyllium and they had that typical spongey/crumbly texture of most coconut flour recipes, which I don't always love. If you cannot get a hold of or want to leave out the psyllium husk, you likely will be OK, but your donuts may have a slightly different texture then mine did, after they were fried.
After just one bite, Mark gave me the best compliment – he said that these donuts tasted like the kind of treat you would get at a fall festival or a pumpkin farm, served with some hot cider. Exactly what I was going for!
PS – I know these look a bit like chocolate donuts, due to their color, but that is simply because coconut flour browns fairly easily. You could always try baking them at a lower temperature and giving them less time in the oil, when frying. I was more worried about getting the proper texture and since I know the browned look that coconut flour takes on doesn't  mean they are burned, nor does it taste that way, I wasn't too concerned about it.
[print_this]Maple Glazed Pumpkin Spice Coconut Flour Donuts
makes 6 – 8 donuts
3 large farm fresh eggs
2 tablespoons coconut oil, melted (plus more for greasing the pan)
1/2 cup pumpkin puree (fresh or canned)
1/3 cup honey or organic maple syrup
1 teaspoon apple cider vinegar
1 teaspoon vanilla extract
2 teaspoons psyllium husk powder
1/2 cup coconut flour
1/4 cup organic coconut sugar
1/2 teaspoon baking soda
1/4 teaspoon sea salt
1 teaspoon ground cinnamon
1/2 teasponn ground ginger
pinch of ground nutmeg
pinch of ground cloves
optional: oil for frying (coconut oil or lard, etc)
Maple Glaze:
1/4 cup coconut butter
2 tablespoons coconut oil, melted
1/4 cup maple syrup
1/4 teaspoon ground cinnamon
1/4 teaspoon vanilla extract
pinch of sea salt
Preheat your oven to 350ºF. Grease your donut pan very well.
Add the eggs, coconut oil, pumpkin puree, maple syrup (or honey) apple cider vinegar and vanilla extract to a large bowl and whisk until mixed well.
Sift the coconut flour into the wet ingredients, then add the remaining ingredients. Whisk well or beat for a minute or two with a hand mixer. Make sure it is well combined. The batter/dough will be very thick.
Using a piping bag (or a large ziplock bag with the corner snipped) pipe the batter into your greased donut pan. Fill the wells about 2/3 of the way full. Since the batter is quite thick, spread it with your fingers in the pan, smoothing the top off. You may have extra batter after you fill the 6 molds. Just make the other 2 (or so) after the first batch comes out of the oven.
Bake the donuts for about 15-18 minutes, until lightly browned. Give them a few minutes to cool in the pan, then move them to a cooling rack to further cool.
If you are frying, heat about 1/2-inch of oil in a large pan over a medium heat. Once the oil is hot enough, add a few donuts, do not crowd the pan. Allow the donuts to cook in the oil for about 2 minutes on the first side, then flip them over give them another minute or so on the other side. Transfer to a wire rack, with paper towels underneath it and allow them to cool.
While the donuts are cooling, add the glaze ingredients to your high speed blender and process for a moment or two, to mix well (you could also just whisk then together). It should be thick and caramel-like. Transfer to a shallow bowl.
Once the donuts have completely cooled, swirl them around face down in the glaze. Sprinkle a little cinnamon over top and enjoy! [/print_this]
This post contains affiliate links. Beth of Tasty Yummies is a participant in the Amazon Services LLC Associates Program, an affiliate advertising program designed to provide a means for sites to earn advertising fees by advertising and linking to amazon.com.