Paleo Cincinnati Chili a classic American recipe that can be served up a variety of ways to please all. Paleo, primal, gluten-free, keto / low carb, whole30! Traditionally it gets served over spaghetti, with onions, cheese and beans, I offer all of the toppings as options to my guests but serve mine simply with the white onions. BOOM Paleo Cincinnati Chili, just like that. This is total comfort food, perfect for Super Bowl hangs or wintery weekend meals. I also include instructions for Instant Pot Pressure Cooker and a Slow Cooker if you'd prefer to make either of those ways.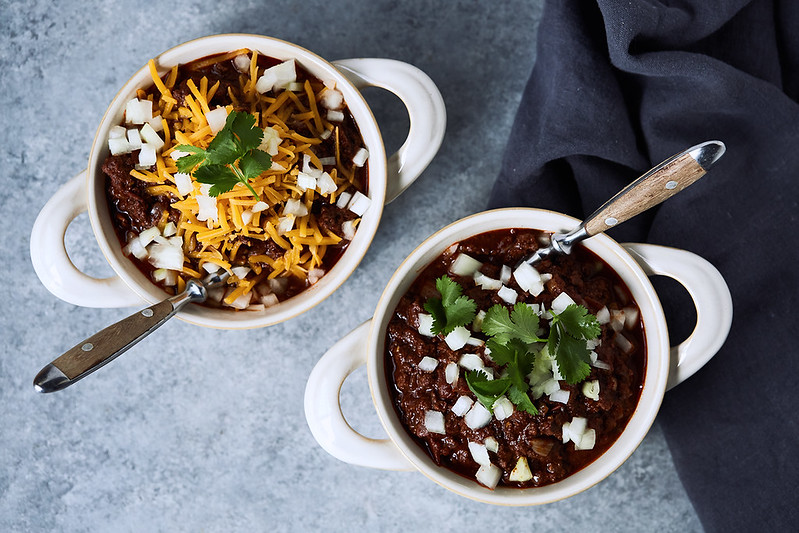 With a husband hailing from Louisville, Kentucky (not too far from Cincinnati) and several close friends here in Southern California with Cincinnati roots, this is a recipe I have perfected over many years. It's now requested often here at our place – it's become a bit of a staple when some of our friends come for dinner.
I can still recall the first time I ever had Cincinnati Chili. It was 1988. Super Bowl XXIII. My dad always LOVED making food inspired by the teams in the final big game. Love some good themed food! The Bengals were playing the San Francisco 49ers. I honestly can't recall exactly what he made that was SF-inspired. If my memory serves me, I think he we went with a Rice-A-Roni inspired dish. Cleary whatever it was it didn't make nearly the impact that the Cincinnati Chili did. He made this chili and I remember loving it.
I have always loved the spices in Cincinnati Chili, it's different, bringing a warmth and coziness without the intensity of a usual spicy chili. I think for me, with the cinnamon and other unique spices, it's reminiscent of several Greek dishes that I grew up eating, pastitsio and moussaka. (I have since learned the creator of the original Cincinnati Chili served up in this manner, was a Greek immigrant, so makes total sense) Let's also be honest, back in the day, my love for Cincinnati Chili it could have also been the fact that it was served over spaghetti – cuz holy shit I loved carbs as a kid!! But honestly what has stuck with me, it's the spices. A bit unexpected. OK and the chocolate (which I put in absolutely EVERY pot of chili I make, Cincy-style or not). It's just special.
Cincinnati Chili wasn't a dish my dad made often, I just recall every once in a while after that Bengals Super Bowl appearance. But it would pop back up again later in my life after I met my now husband. On a drive to Louisville to see Mark's family he told me how much he loved the Cincinnati Chili he grew up eating and that we had to go to Skyline, a regional fast food restaurant serving Cincinnati Chili. So we did. I recall at this point I was already gluten-free, so I skipped the spaghetti but I fell in love all over again with this spicy comfort food.
Cincinnati Chili is super thick and rich, the chili becomes more like a meat sauce than a traditional chili. Which is why it's so wonderful served over spaghetti (or a pasta alternative).
Traditional Cincinnati Chili is served over spaghetti (2-Way) from there, the variety is totally up to you. Customized food. My favorite.
At Skyline they go with these classic options:
3-Way – chili over spaghetti with a mound of cheese
4-Way – 3 way with onions OR beans
5-Way – 3 ways with onions AND beans
I think this is why I love so much to make this Paleo Cincinnati Chili when we have friends over. I make a big pot of the meaty chili and prepare spaghetti for whoever wants it. Kidney beans. Onions. Cheese. And then oyster crackers and/or Fritos for the top. 'Cuz no matter how hard I work to get my husband eating super clean, he will never not have one of those two on top of his chili. I pick my battles. Compromise!
It's a breeze to make this Cincinnati Chili to be paleo. Skip the pasta, beans and cheese – BOOM.  If you want fully traditional vibes, you can serve over zucchini noodles or spaghetti squash, obviously gluten-free spaghetti is great too, but in full honesty, I just don't think it needs it. This Paleo Cincinnati Chili is just epic on it's own.
Paleo Cincinnati Chili (w/ options for Instant Pot and Slow Cooker)
gluten-free, grain-free, paleo, dairy-free, egg-free, nut-free, whole30, keto/low-carb
Print
Pin
Rate
Ingredients
2

tablespoons

Terra Delyssa Olive Oil

1

large yellow or white onion

,

diced

4

cloves

garlic

,

minced

2

lbs

grass-fed ground beef

,

you can also use ground lamb, chicken or turkey

3

tablespoons

chili powder

2

teaspoons

ground cinnamon

1

teaspoon

ground cumin

½

teaspoon

dried oregano

½

teaspoon

ground allspice

¼

teaspoon

ground nutmeg

¼

teaspoon

ground cloves

1

bay leaf

pinch

of crushed red pepper flakes

,

optional

1

teaspoon

sea salt

2

cups

low-sodium beef or chicken broth

28

oz

can organic crushed tomatoes

1

tablespoon

coconut aminos

,

tamarin or soy sauce will also work

1

tablespoon

cider or white vinegar

2

tablespoons

unsweetened cocoa powder

Salt and pepper

, to taste


For serving (optional)
cooked spaghetti

,

zucchini noodles, butternut squash or other pasta alternative

diced white onions

shredded sharp cheddar

1 15-

ounce

can organic kidney beans

,

drained and rinsed

fresh cilantro or parsley
Instructions
In a Dutch oven or large heavy-bottomed pot over medium-high heat, heat oil until shimmering. Cook onions until softened, about 5-6 minutes. Add the garlic, sauté for about a minute.

Add the ground beef, along with the chili powder, cinnamon, cumin, oregano, allspice, nutmeg and cloves, red pepper if including. Cook until the meat is just barely lightly browned, breaking into small pieces. About 6-8 minutes.

Add the bay leaf and sea salt. Pour in the crushed tomatoes and broth. Bring to a boil, stirring often. Once boiling reduce the heat to medium-low.

Add the coconut aminos, cider vinegar and cocoa powder. Simmer uncovered until thickened, about one hour. Season with salt and pepper. Remove the bay leaf.

To serve, place some spaghetti or zucchini noodles on a plate or in a bowl, spoon some of the chili over the top or just serve the chili in a big bowl. Garnish as desired.
Instant Pot Directions:
Set the pressure cooker to sauté, add the oil and let it heat up. Add beef and onions, breaking apart the beef as it cooks.
Once beef is brown and onions are becoming translucent, add garlic and stir to combine, cooking for one more minute.
Add the broth and tomatoes. Stir to combine.
Add the remaining ingredients, up to and including the cocoa powder. Stir well to combine. Scrape the pan bottom to remove any browned bits.
Press the Cancel button to stop the Sauté function. Place the lid on the Instant Pot.
Set the vent to the sealed position. Using the Manual setting, select a 15 minute cook time on high pressure.
Once the cook time is complete, you can perform a quick release or natural release.
After pressure has released, carefully remove lid and then remove the bay leaf.
Serve as you would like.
Slow Cooker Directions:
In a large skillet over medium-high, heat the oil. Add onion and garlic. Cook until onion is translucent, about 5-6 minutes. Stir in ground beef, cooking until browned, about 5 minutes.
Add the meat to the crock of your slow cooker. Add the chili powder, cinnamon, cumin, oregano, allspice, nutmeg and cloves, red pepper if including. Add the bay leaf and sea salt. Pour in the crushed tomatoes and broth.  Stir well to combine.
Cover slow cooker and cook on HIGH for 3 1/2 to 4 hours or LOW for 7 to 8 hours.
Serve as you would like.
SaveSave
SaveSave
SaveSaveSaveSaveSaveSave