*The following post is sponsored by Grimmway Farms. All content and opinions are my own.*
It is a rare thing that I serve carrots as a side dish with meals around here. My hubby Mark tends to be quite vocal about his disdain for carrots, if they are served any other way than raw. However, I have been on a mission to get him to enjoy carrots other than just being dipped in ranch, blue cheese or hummus. So, when Grimmway Farms contacted me to create a simple holiday side dish with their amazing baby carrots, I was very excited for another opportunity to win my hubby over with this nutrition-packed veggie!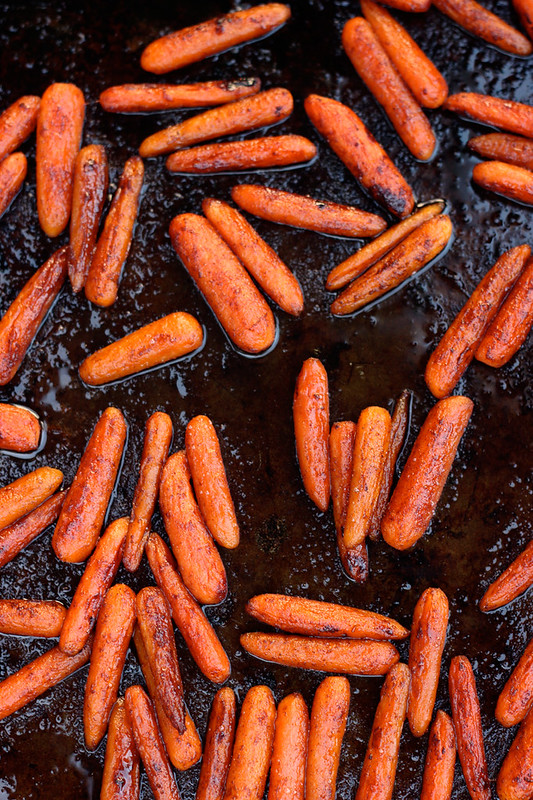 Carrots are a nutrition powerhouse and they are just so darn good for you, which is why I am always trying to get Mark to eat them. Carrots provide over 15 essential vitamins and minerals along with phytonutrients and fiber that are important for good health. One serving of baby carrots (85 grams; about 9 medium baby carrots) provides just 35 calories and is a source of over 15 vitamins, minerals and phytochemicals, including vitamin A, vitamin K, vitamin C, potassium, calcium, phosphorus, magnesium and niacin.
When I made these Harissa Roasted Carrots with Preserved Lemons and Feta a few weeks ago, Mark actually ate them up and couldn't stop raving about how good it was. So, I opted for roasting them again this time, but adding a little sweetness and spiciness, two things I know he loves and that I think would be perfect with any holiday meal! The addition of the toasted coconut is so complimentary with the spices and it's a nice change from the traditional brown sugar steamed carrots most people serve.
Mark loved these Spiced Maple Roasted Baby Carrots!! We have another success, folks! Regardless if you like your carrots cooked or raw, check out all of the amazing ways that Grimmway Farms sells their carrots.
What's your favorite way to enjoy carrots?
[print_this]Spiced Maple Roasted Carrots with Toasted Coconut – Gluten-free & Vegan
serves 2 to 4
1 lb baby Grimmway Farms Baby Carrots
2 tablespoons coconut oil, melted
2 tablespoons maple syrup
1/2 teaspoon ground cinnamon
1/4 teaspoon ground ginger
pinch or two of ground cayenne
1/2 teaspoon sea salt
Topping:
1/4 cup toasted shredded unsweetened coconut
zest from 1 orange
Preheat your oven to 425º F.
On a baking sheet or large pan toss the Grimmway Farms baby carrots with the melted coconut oil and maple syrup, making sure they are evenly coated. Then sprinkle them evenly with the spices and salt. Toss well to combine.
Roast the carrots for about 20 minutes until they are tender and are starting to slightly brown. Serve hot topped with the shredded coconut and the orange zest.[/print_this]