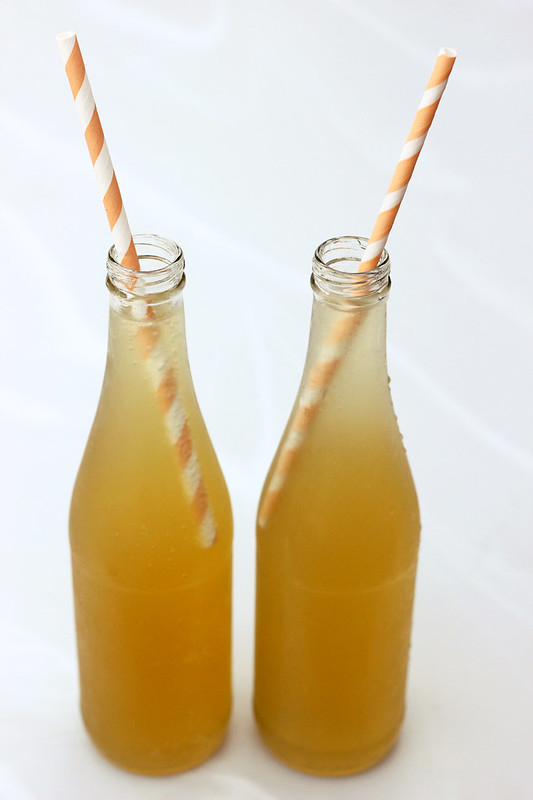 As part of our Six Month Mindful Living Challenge I am going to be sharing recipes that follow that compliment the theme of the month, when possible. This month, with our plastic consumption being the focus, I wanted to share a recipe that is simple to make at home that is not only delicious but can single handedly cut down on your plastic use.
This homemade ginger syrup has a great kick to it from the fresh ginger and it is full of beautiful, bright flavors. Not only is it great for this refreshing and delicious homemade ginger ale, but it would also be great drizzled over homemade ice cream and yogurt or even over your morning oatmeal or other cereal. I sweetened this with local raw honey, since honey provides a variety of amazing benefits, but I also just love the flavor. If you are vegan, play with your favorite sweetener, anything will work. Granulated sugars to liquid, they'll all work just as easily. For some of the amazing benefits of raw honey, check out this post from Body Unburdened. See the notes at the end of the recipe if you wish to retain the full benefits of the raw honey in this recipe.
Making simple syrups at home to make your own homemade sodas are super simple, great for entertaining and when making your own sodas, it means less plastic bottles brought into your home. Even better, you can make use of glass bottles from other things that you held onto. I love a good glass bottle or jar for drinks. Mason jars are some of my favorite for homemade drinks and cocktails. I have been down to hang on to all kinds of jars and bottles, it drives hubby crazy, but I love them. I use them all over the house. In the bathroom, as little flower vases, for leftovers, etc. OK I can't be the only one, who else has a serious jar and bottle hoarding problem?
If you don't wish to purchase soda water or sparkling mineral water because you can't find it in glass containers, or you just wish to cut down on the waste altogether, you can buy one of these nifty Sodastream Fountain Soda Makers, that allows you to carbonate any drink, including plain 'ol water. I have had one of these on my wishlist forever, I need to just spend the money and buy one already. You can even carbonate wine! If you want to make that cheap bottle of white into a quick bubbly, go for it. It comes with one BPA-free plastic bottle that you can use over and over, time and again, just think of how many plastic bottles that saves.
How has tracking your plastic last week and trying to be more aware this week, been going for you? I have been trying whenever possible to reuse any plastic containers and bags and I have been actively avoiding bringing excess plastic into our home. The real eye opener for me thus far is just how much plastic we are surrounded by each day and how much of it is tossed into the trash haphazardly.
[print_this]Homemade Ginger Ale – Honey Sweetened – Gluten-free with Vegan option
Makes approx. 1.5 cups of syrup
1 cup coarsely chopped, peeled fresh ginger, organic if you can find it
1 cup local raw honey (to make vegan use maple syrup, raw sugar, coconut sugar, maple sugar, agave, etc)
1 tablespoon lemon zest
2 cups water
Soda water or sparkling mineral water
Place ginger, honey, lemon zest, and 2 cups of water in a medium saucepan. Bring to a boil over high heat, so the honey (or sugar dissolves). Simmer, uncovered, for about 15 minutes*. Turn the heat to the lowest it will go (or turn it off completely) and let it reduce and infuse, for about 30 minutes.
Place a fine wire strainer over a large bowl. Pour the ginger mixture into the strainer to separate solids from liquid. If you like, you can save the cooked ginger pieces for other uses, it would be great in a homemade ice cream or popsicle or over yogurt, etc.
All the syrup to cool completely, pour into a glass container, seal tightly, and chill at least 1 hour until cold or up to 1 week.
To make the ginger ale: add about 2 to 3 tablespoons of the ginger syrup to a large glass, jar or bottle, top with ice and pour about 8-10 ounces of soda water over top. Give it a stir and garnish with a lime wedge. Additional ginger syrup can be added, to taste.
*If you wish to retain as many of full benefits of the raw honey as possible, consider boiling the liquid before adding the honey, then only leaving it over the heat long enough for the honey to dissolve. Remove the pan from the heat. Cover it and let it steep/infuse for 45 minutes to 1 hour. The follow the rest of the recipe above. The flavor may not be quite as strong, but you will likely retain more of the benefits of the raw honey this way.
[/print_this]